On the Arctic Tundra in Svalbard, Norway, between Oslo and the North Pole, there are neither gardens nor trees. However, deep within this isolated surface lies the largest concentration of agricultural diversity of the world. The 'Global Seed Vault' headed by an American agriculturalist Cary Fowler heads this international effort with a team of experts safeguard the sources of the world's food supply, one which has been designed to outlast any disaster, ultimately each and every one of us. A doomsday vault for humanity.
Why keep all these seeds here?
As the weather there is extremely cold, it helps in the conservation of these seeds. The seeds lie behind an icy road, in racks of boxes stored at zero degrees that have been sent over from nearly every country.  Tourists that come here are not allowed inside the vault, which consists of more than half a billion seeds from 930,000 varieties. In one room, there are more 150,000 varieties of wheat.
Why so much wheat?
According to Cary Fowler, the wheat seeds are what represent the future. Here, different varieties of wheat have their own types of traits. Certain ones are higher in protein and some others have high insect resistance. Since the future cannot be predicted, a collection of all these varieties is required as no one can know which of these traits can come into use later on.
Cary Fowler said, "The idea behind this whole venture is to save all the pieces of the puzzle."
There are over 1,700 seed banks around the world consisting of varied sizes and types. However, this one in Norway, 'Global Seed Vault' or the 'Doomsday Vault' has been designed to last for thousands of years.
Hence, for instance, when a typhoon tore through a seed bank in the Philippines, it destroyed everything inside. Yet, all was not lost. Or even when war destroyed seed banks in Iraq and Syria, the seeds here were safe.
History and its origins
Agricultural cultivation began more than 15,000 years ago. However, with excess industrialization, plant species decreased dramatically. Since 1990, more than 75% of the crop diversity has dropped down.
That was when Fowler and his team came up with the idea of seed conservation.  "We have the technology, we have the smarts, we know how to conserve seed, and so why can't we figure out a way to have a facility somewhere which is safe and where seeds can be stored for long terms without any dangers?", Fowler said in an interview.
The biggest question then was where to put it?
Yaboot_Vault2.jpg
In 2008, this search ended at Norway. The place was not only politically stable but also cold enough for conservations and most importantly remote from most dangers.
What is the purpose of the Vault?
Around the world, there exist more than 1,700 of these gene banks which hold collections of food crops for safe keeping. Yet, many of these are vulnerable and are exposed not only to natural catastrophes and war but also to unavoidable disasters.
These reasons of the vulnerability of the world's banks that brought up the idea of establishing a Global seed vault as a backup storage facility. The most important purpose of the Vault is to store seed samples from the world's crop collections.
The focus of this Vault is to safeguard the world's distinctive crop material as much as possible, while also avoiding unnecessary duplications.
The thick frost and barren rocks of Norway ensure that these seeds will remain frozen even without power. This Vault is the most ultimate policy of the supply of food for the world. It will secure lives for centuries and will represent every important crop variety available in the world today.
The Vault's Storage
This Seed Vault has the capacity to store 4.5 million varieties of crops together. Each variety of these seeds will contain an average of about 500 seeds. Therefore, a maximum of 2.5 billion seeds can be stored in the Vault.
As of now, the Vault stores more than 880,000 samples of seeds that have come from almost every country in the world.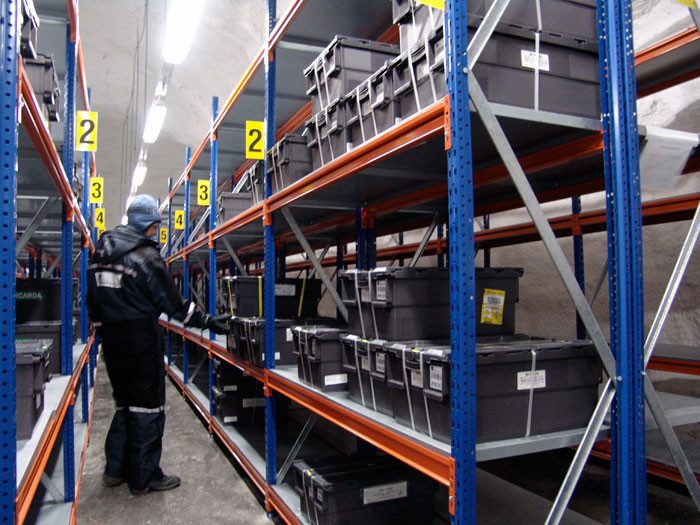 A cold temperature of -18ºC is required for the storage of these seeds. They are stored and are sealed in a custom made three-ply foil packages. These packages are then sealed inside larger boxes and are stored on shelves inside the vault. The low temperature around the vault and moisture levels inside it ensure low metabolic activity. This keeps the seeds viable for long periods of time.
The Vault's location
Svalbard is the farthest north that a person can fly till, on a scheduled flight. This offers a remote location that is nevertheless accessible.
Here, the area is geologically stable, the humidity levels are extremely low and cold temperatures are high providing the perfect location for the storage of seeds.
The Vault also lies above the sea level, preventing floods from destroying it.
And finally, the permafrost acts like a natural freezer offering a cost effective and fail-safe method to store seeds.
There are big and tiny Doomsdays every day in some or the other part of our world resulting in loss of genetic material all over the globe.
Therefore, this Vault or our huge safety box deposit is considered to be the Future of humanity.